Shopping for the right products that suit your desired skin finish can be a difficult task especially if you don't understand formulas. And sometimes it could even be that you understand formulas but wish to get the most from the few products you have. I mean what's makeup if you can't have a bit of fun with it right? Don't sweat it, achieving different skin finishes from only one foundation is what this post is all about!
So there are different types of foundation finishes out there – matte, satin/velvet matte, and dewy/illuminating finishes. Hegai & Esther has one foundation finish, velvet matte, but the good thing about our formula is that you can tweak it to give you whatever finish you want. Killing three birds with one stone right? You bet it is!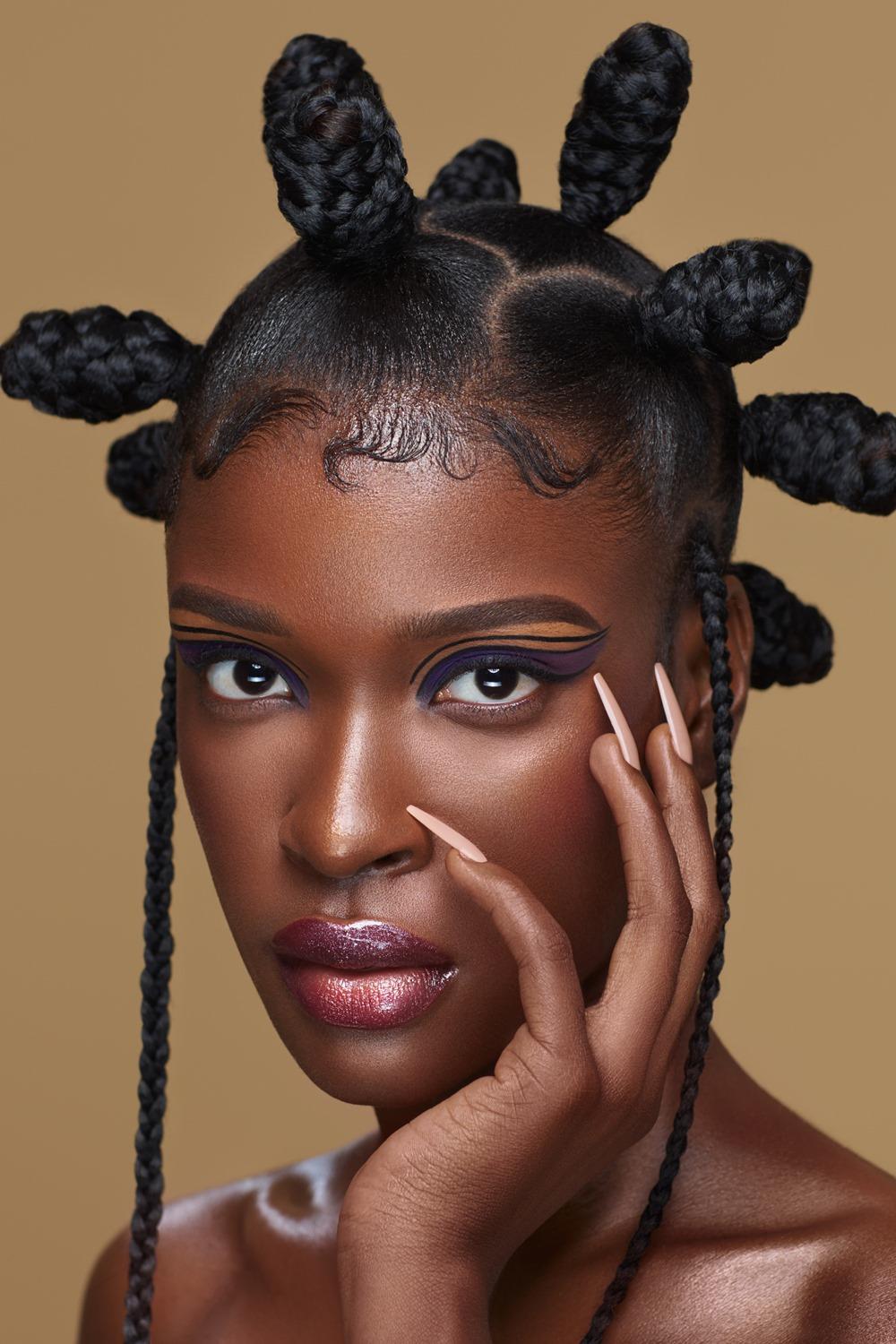 VELVET MATTE FINISH
The velvety skin finish is a soft and satin-like finish that appears slightly dewy but with matte effects. In other words it isn't dewy, and neither is it matte, it is right in between both finishes. This finish is great for all skin types. H&E Foundation has a velvet matte finish making it the best foundation option for this purpose, I'm just gonna highlight how you can combine it with our other products to give you that overall porcelain-like finish.
1. Prime your skin. It is important you prime your skin right after cleaning and moisturizing it. Skin Filter Primer will give your skin a smooth base, help to give you an even skin tone, and also prolong makeup wear.
2. Apply foundation using a brush if you want a slightly more matte finish, or a sponge for a sheer coverage.
3. Set with pressed powder only in the areas you don't want excess shine, particularly the T-Zone: nose, forehead, under the eyes, chin, and above the lip.

4. Velvet Matte does not mean zero glow, so go ahead and highlight your high points using Flash Pan.
5. Finally, crown the entire look with a swipe of velvet matte lipstick.
There you have it! Your skin will look like a flawless mix of matte and dewy in all the right places.
MATTE FINISH
A Matte skin finish has no shine to them whatsoever, and tends to appear dry, which means you never have to worry about your face bursting into an oily ball by midday. A matte finish is ideal for oily and combination skin types as they last longer and help to minimise the appearance of pores and imperfections. See below how to get a matte skin finish using Hegai & Esther products.
1. Clean, moisturize, and prime. Skin filter primer holds back excess oil, creates an even base for your other makeup to go on, and minimize the appearance of large pores and fine lines.
2. My favorite part of achieving a matte finish is mixing Makeup Seal with foundation. Fondly called magic potion, makeup seal takes whatever it is mixed with and turns it matte, smudge proof and waterproof. Mix 2 drop with Photo Perfect Foundation, or apply directly on your skin using a whisking brush.

3. Set the face with loose setting powder. Loose powders are dry and finely milled, and tend to absorb excess oil on the face. So it is a good idea to first set the face with little loose powder and then finish up with pressed powder. This combination never fails, just press the powder onto your face whilst paying extra attention to the areas that tend to get oily.
4. Matte skin finish can sometimes have a flat look, so if you feel you're looking too flat and need to add some life to your look, use a highlighter. Just steer clear of liquid and cream highlighters, and stick to powder highlighters instead. Flash Pan is a well refined, oil-free pressed powder highlighter, simply apply it on places that tend to be less oily on your face, could be your cheekbones, cupid's bow, brow bone, basically any part that wouldn't emphasize oil.
So you see, getting a matte skin really isn't impossible. All you need is the right combination of tools, products and techniques which Hegai & Esther offers.
DEWY SKIN FINISH
What exactly is a dewy makeup finish? A lot of people confuse dewy makeup with shine, and shimmer, meanwhile dewy makeup actually is all about hydration, freshness and radiance. The goal is to have a natural glow so pleeeaase don't go about looking like you ran into a jar of oil all in the name of dewy skin!
The following are steps to achieving a dewy finish using H& E products.
1. Start by cleaning and moisturizing your face with products high in humectants.

2. Apply a mattifying primer. This may sound contradictory but remember what you're after is a fresh, dewy finish not an oily shiny one. Our Skin Filter Primer will create a smooth canvas for your foundation to go on whilst also holding back excess oil.

3. To achieve a skin-like radiance that shines from under your foundation, apply our liquid highlighter, Flash Drops, to areas of your face where the sun hits the most, that is the cheeks, nose, and chin.
4. Apply foundation using a brush or damp blending sponge. For more luminosity mix some drops of the Flash Drops with the foundation.
5. Set with a pressed powder, but do not apply too much.
6. Now if you want a little bit of the extra glow, you can go in with some flash drops on your cheeks, forehead, chin, and bridge of nose.
7. And finally, crown it all with a glossy pout. But if you want a contrasting appeal to your already dewy skin you can either apply matte or velvet matte lipstick.